Sexual Education Art Contest Winner: Elyria Steele
Jul 03, 2019
As fate would have it, the very artist whose artwork we used to announce the Sexual Education Art Contest ended up winning the contest itself! Congratulations Elyria Steele!
Sexual Education Art Contest - June/July 2019 - Winner Announcement
Elyria Steel has certainly proven she is the mistress of classroom deviance! If you haven't seen Elyria's winning entry yet, Futa Dorm Induction, head over to her original contest post right now, as the enticing, cum-speckled image above isn't even half of the complete artwork.

In addition to checking out the full image, you may also want to read the accompanying short story Elyria penned for it. Below is just the first two paragraphs.
"Jun had no idea what she was about to get herself into when she had noticed below the 'Male' or 'Female' option on her dorm room application was an option for 'Futa'.
"Being a futa herself, but never having met another one in her 18 years, she decided it would be a great opportunity and had checked the box excitedly. When her application had been accepted she was ecstatic."
Looks like there's some fun ahead for Jun! You can check out the rest of the story on Elyria's original contest post (along with the full image, as we already mentioned)! While you're there be sure to congratulate her and checkout the shiny, gold winner's badge in her profile achievements.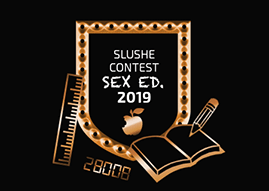 TOp 10 Contestants
Let's also congratulate the 9 runners up who made it into the contest's top 10 entries! Congratulations Antropox, Ashley Sugar, cjflo, DialupHero, Mickytroisd, otbjacko, Power-Up3DX, Prozac Parade, and sostene!
As we mentioned in the vote post, this contest was our most competitive yet. Acquiring the Slushe pink runners up badge this time around was no small feat! Thank you runners up, and again, thank you to everyone who entered! Everyone really brought out their best for this contest, and we look forward to seeing what you come up with next time!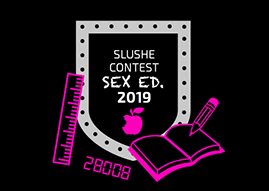 It's probably a bit obvious already, but today's Media Highlight is Elyria Steele! In addition to the numerous previews this artist share, she also maintains an active and engaging Patreon which is well worth the look. While checking out her winning entry, be sure to give the rest of her profile a browse and follow her for updates.
Do you want to add items to list ?