Interview with Elyria Steele
Jul 23, 2019
We recently spoke with the winner of the Sexual Education art contest winner, Elyria Steele! If you haven't seen her cum-coated winning entry yet, check it out! After that, read the interview below to learn more about this impressive artist and writer!
I'm pleased to see your winning entry includes both an image and narrative prose. What got you started in erotica and 3DX? Which came first?
Thank you! Sometimes the stories really just run away with me. I've always loved writing, but decided to try my hand at erotica after realizing how easy it was to self-publish online. After I finished my first short story, Promised to Cthulhu, and was putting the finishing touches on my first short novella, Barbarian Queen, I realized I was going to need some sort of cover art. Amazon offers some very generic options for creating book covers, which I really wanted to avoid. Growing up, I was really into pencil and pen illustrating (very much a comic book nerd), but had sort of become disenchanted with it after high school and wasn't that interested in doing it again. It was almost a fluke that I discovered DAZ but once I saw the potential for working in 3D I was instantly hooked!
Tell us a little bit about your winning piece. What inspired you? Other than the theme of "Sexual Education," what feelings and impressions did you want to express?
Well, when the theme for the contest was announced, and Slushe used the final picture from my Sex Ed story/picture set, I knew I wanted to go a different route. I knew there would be a lot of submissions going with a classroom setting, and since I had just done that theme, I figured the next best thing would be a dorm room. I wanted the piece to sort of hyper-convey the aftermath of the narrative prose, where we meet Jun, a futanari who is very inexperienced sexually at the beginning, but obviously has gotten a lust-filled "education" of sorts. Even though she's surrounded by these other futanari characters, I pulled the camera in on Jun to really make it an intimate moment between her and the viewer.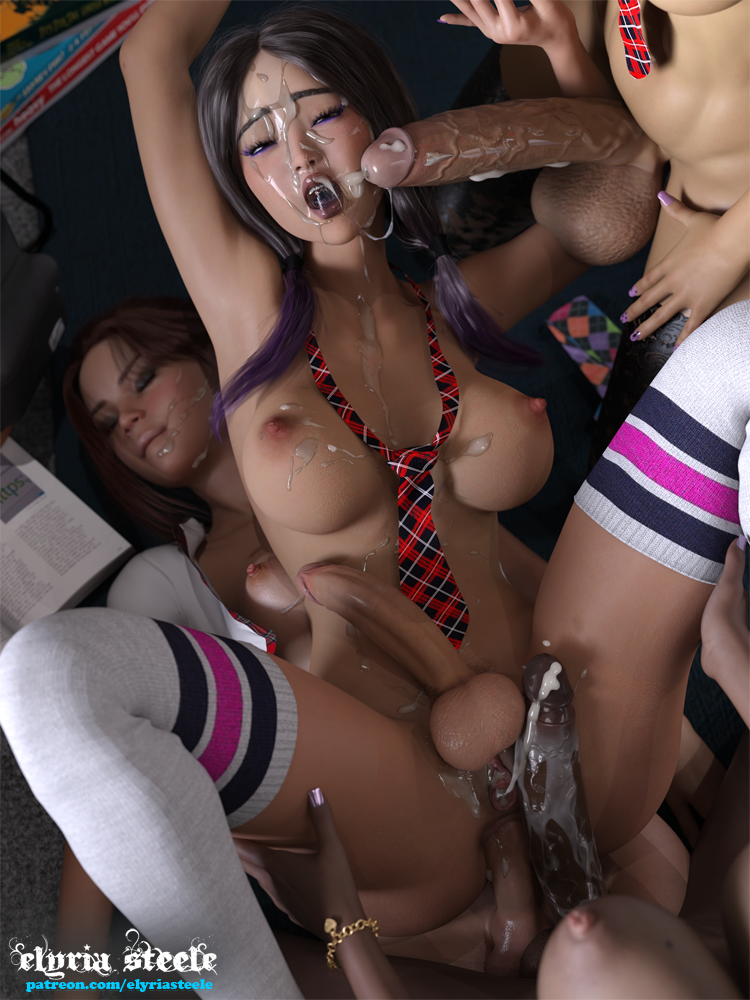 What inspired you to start your erotic writing with Lovecraft and tentacles?
I've always loved the nature of Lovecraft's stories; the mysterious unknown that's too much for human beings to imagine or even comprehend. When I began writing I had originally wanted to focus on erotic monster stories. Mostly because it seemed less tame and boring, and I grew up with a love of fantasy and science fiction.   As for the tentacles, they're just so incredibly phallic, but in this, like, uncontrollable package. They really tap into a sense of helpless arousal; you don't fuck tentacles - they fuck you!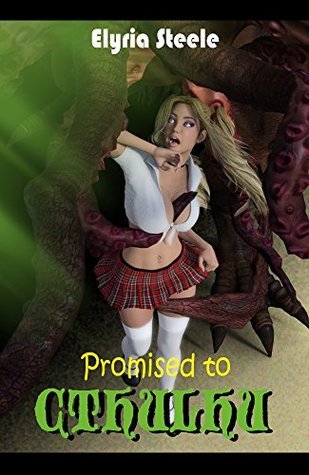 So like, a bodice ripper, but with monsters?
Pretty much!
Do you find vanilla sex boring? If so, why? If not, what orientation would be most appealing to you in sci-fi and fantasy, without monsters or futanari? Why?
Quite the contrary! But there's no shortage of that content for people to consume out there already, and for me, as an artist, I just wanted to do something different that was fun for me! And the fanbase is very supportive, and really welcomed me in!
I also see you have a lot of dickgirl/futanari work. Is this your favorite genre to work with? What do you enjoy most about them?
Yeah, like I said, I didn't want to write erotica that didn't have some sense of the fantastic. I really knew almost nothing about the genre when I wrote my first futa story, but I found the idea of futanari to be something that would allow me to write a sexy yet vulnerable character that was definitely outside the normal expectations of what a woman was. It really just came out of what I imagined what it would be like to be born that way. I'd say what I enjoy most about them is the dynamic of a female character that has to deal with male needs, and visually I think they're just incredibly arousing!
What do you find most arousing about futanari?
I suppose it has to do with what I was saying about their dual nature. I just think the human body is arousing, and futa are simply the best of both worlds! I mean, for me, it's fascinating to think about what it would be like to have a dick. The feeling of it; the sensation. Whereas for male fans, I would imagine, there's a familiarity the dick brings to them sexually that let's them connect with these otherwise female characters.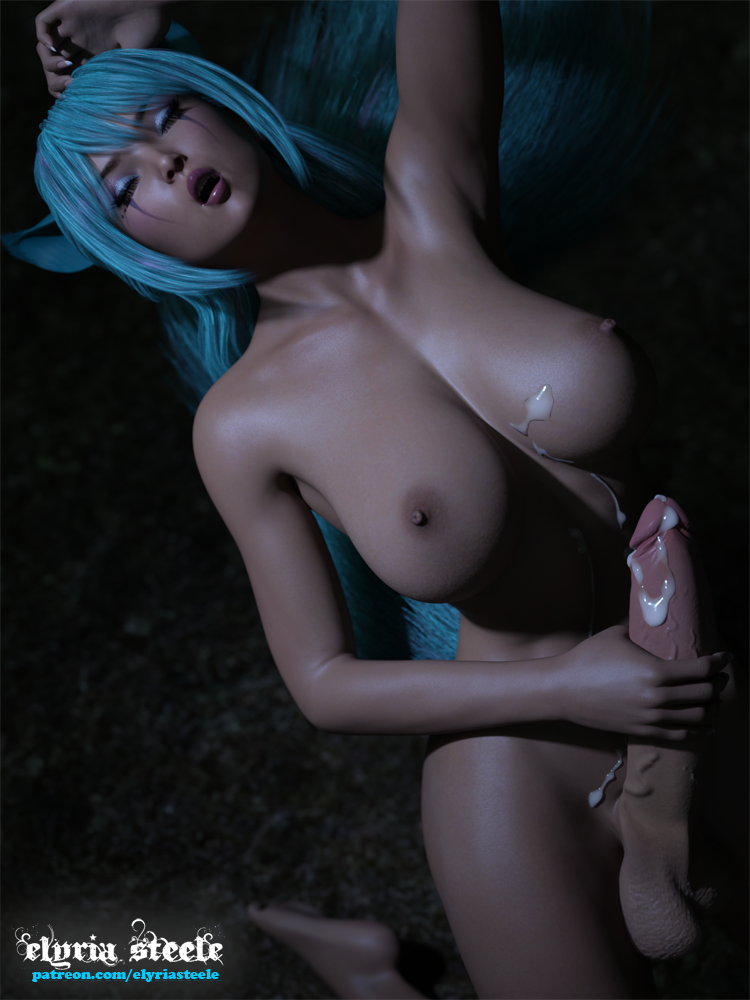 How long have you been writing erotica? How long have you been working with 3DX?
I published my first short story in May of 2018, so just over a year now.
When creating your art, what do you draw inspiration from?
This is a really good question, that I really don't know if I have a specific answer for. I try not to expose myself to too many other artist's works, for fear I might subconsciously borrow existing ideas (although, I'm sure it happens). I suppose you could say I just am inspired by a love for the medium.
Coming from the background in sci-fi, fantasy, and comic book fandom, are there any non-digital or 2D artists that have inspired you?
I'm very much a fan of the author Terry Goodkind, and comic artists Joe Madureira and Jenny Frison.
Do you listen to music, or watch things while working? If so, what?
I love all kinds of music, but I'm too easily distracted to watch anything while I work. I've been listening to a lot of psytrance lately.
What's your favorite coffee?
I love me an iced mocha!
Is there a particular theme, fetish, or scenario that piques your interest for future exploration?
Not per se, though I am sort of obsessed at times at trying to make my pieces look as photo-realistic as possible. I know I have a long way to go, but it's a great desire for me. I probably sabotage myself a lot by gravitating to unrealistic subjects though (i.e. angels, demons, spellcasters, etc.)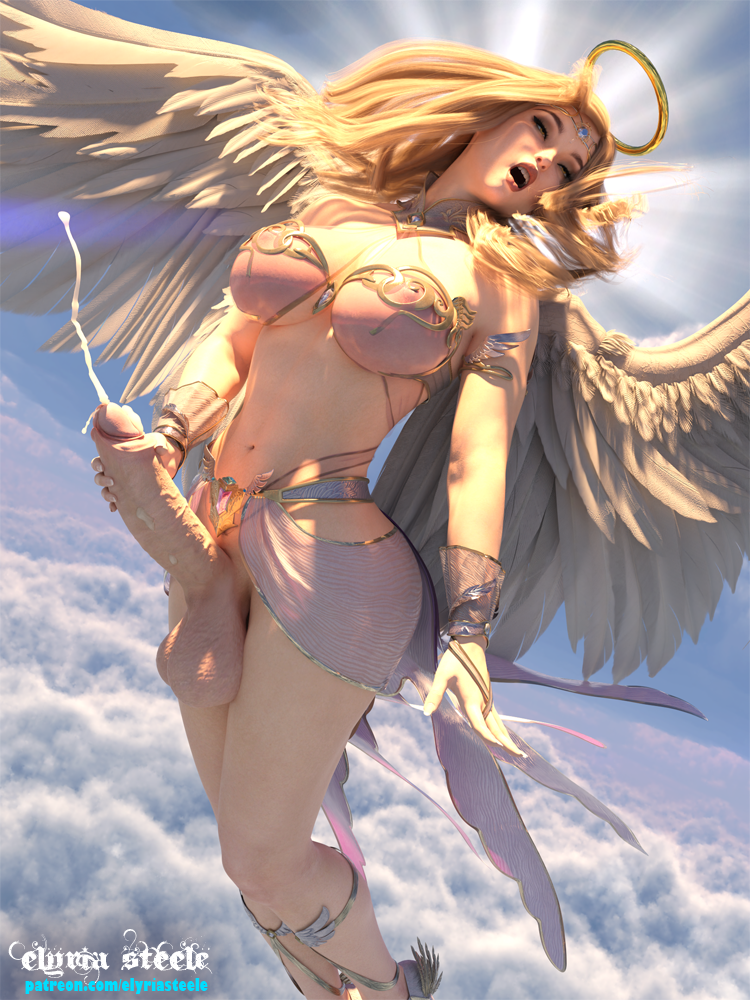 Based on what you've learned from writing and 3DX, do you have any advice for artists and writers?
The number one piece of advice I can think of with art, in any medium, is to learn composition. Not to say I'm some master of it, but I feel even a mediocre piece of art, can really benefit from how it's framed, or the angle of the camera. It really goes a long way to being drawn into a picture.
As for writers, I feel I'm pretty hack, but I suppose it would be to make your characters as 3 dimensional as you can. It can make the difference between a piece being fascinating or just plain boring.
What are some frustrations you've experienced writing and rendering?
Just how much time it takes up! Lol. A powerful computer really helps!
What's your favorite erotic trope?
Cum shots! Lots and lots of cum shots!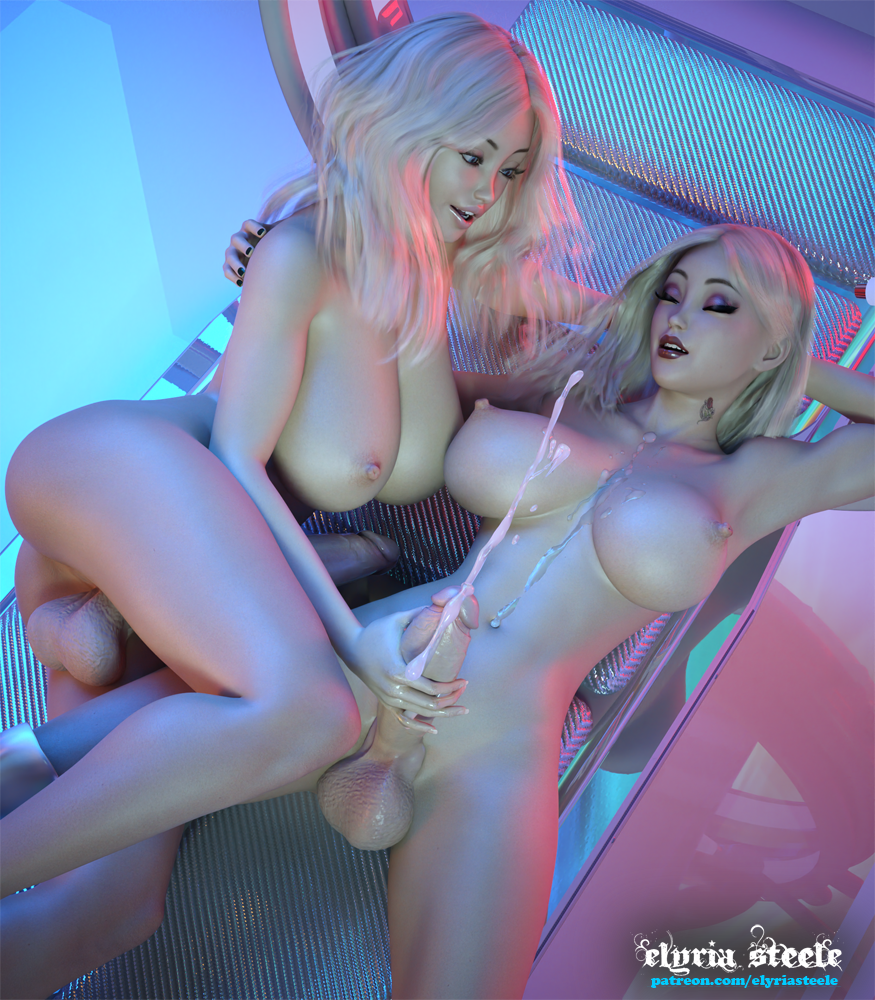 Anything else you would like to say to your fans?
Just how much I really appreciate them! I've been contacted by so many wonderful fans from so many different countries, and I wouldn't be doing this if it weren't for their incredible support and love of my work. I hope I can always meet and even exceed their expectations! -xoxo
And there you have it. Thank you for chatting with us Elyria, and congratulations again on winning the Sexual Education art contest! Slusheans, be sure to check out Elyria Steele's profile here on Slushe and give her a follow to keep up with all her future content. You can also support her on Patreon or buy one of her erotic ebooks.