Development Update #17
Dec 31, 2019
*Media Highlight Image by artist Gazukull
A brand new year is upon us and we're kicking it off with a big site update! We have some useful tools for artists to play with and we've given the site's layout an upgrade here and there. Please share and spread the word to your fellow artists. :)
NEW SITE FEATURES UP UNTIL DECEMBER 31ST 
TEXT POSTS
You can find a new content type called TEXT in the post creator. TEXT posts are intended to be used by artists for blogging and connecting with other Slusheans without having to share media. Use them to blog about 2D or 3D art, share your passions, start discussions, talk about your ideas for future work, or just give your followers a life update. 

TEXT posts may be used by writers to share stories as well, though they should be aware that text posts are intended as a means for visual artists to interact with their fanbase in an alternative way. Due to their lack of media, TEXT posts will not appear sitewide as Image, Poll and Video posts do. (More on that in the points below.)  
Before you start typing away, here's an overview of things to keep in mind:  
Slushe's Site Rules apply to TEXT posts as well. 
TEXT posts only require a title and your text. Tags are optional. 
TEXT posts do not have categories. 
TEXT posts do not appear on the Slushe homepage. 
TEXT posts do not appear in Categories search results. 
TEXT posts do appear in the Timeline and Blog feeds of the creator's profile, and the feeds of Slushe users who follow the creator. 
TEXT posts do appear in the general search engine results. 

POST MANAGER
Perhaps the most exciting addition to the site in this update - artists now have a space where they can manage their existing posts!  Just open the User Menu and click Manage Posts. 
What you'll find on the Manage Posts page:
A complete overview of your posts with options to edit, view, delete, make a post private or make a post public. 

Every post is assigned with a Status: Public, Private or Disabled. Below you can find the meaning of each status. 
Public: visible to everyone. 
Private: visible only to you and site moderators.
Disabled: invisible and inaccessible to you until further notice from a site moderator. The content in this post may be violating Slushe's Site Rules.
Page filter for Image, Poll, Video and Text posts.
Page filter for Public, Private and Disabled posts. 
Search engine to find specific post(s). 
A few notes on Private posts
If you edit a Private post and save it, it will not be published. The only way to publish a Private post is to click the Make Public button. 
It's currently not possible for creators to distinguish a Private post from a Public post just by looking at them. We'll add a visual indicator to differentiate them in the near future!  
SLUSHE WATERMARK
A few months ago we added an option to apply a Slushe watermark to images via a checkbox in the post creator. To clarify how this watermark checkbox works, we've added a NEW icon with an informational popup text. This tells the user what the watermark looks like, where it will be located and how to apply it.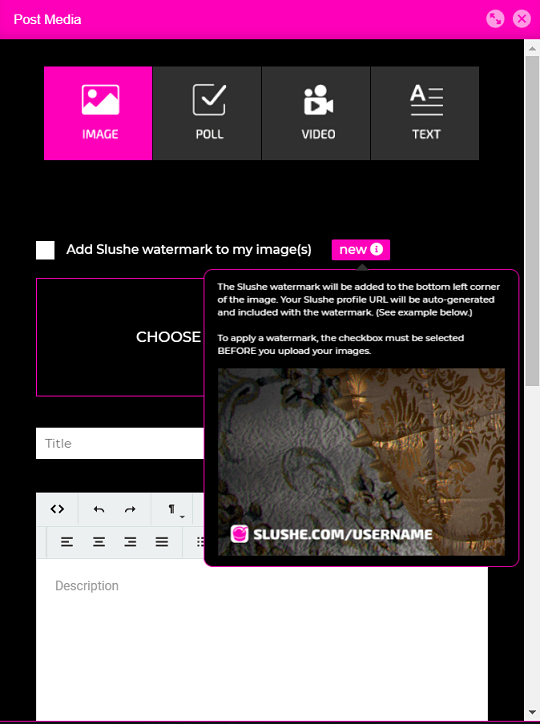 We previously covered the workings Slushe watermark checkbox in Development Update #16 if you would like to read about this feature in more detail. 
GALLERY THUMBNAIL IMAGES 
When you hover your cursor over thumbnail images in the site galleries, a pink overlay appears with information about the post (categories, title and creator). Previously this overlay covered the entire image, but we've decreased the size of it so it only covers half.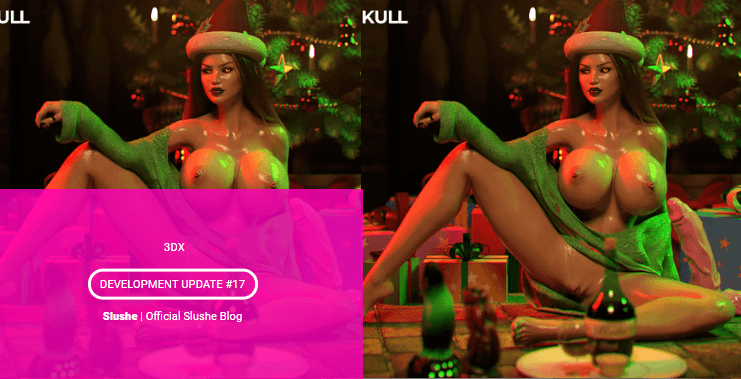 GENERAL SITE FIXES
Notifications - added a filter to the site Notifications page that allows users to view specific notifications (private messages, follows, comments, likes, favorites, etc.) 


Notifications manager - moved the site notifications list to be right next to the email notifications list for a better overview. 


Messages - added two sets of pagination at the top and bottom of the page so users can skip through pages more easily. 


Forum comments - added a direct link to each forum comment that can be copied and pasted for easy sharing. The link is inside the publishing date of the comment. Right-Click and copy or click on it directly to get the link. (See example below.)


Homepage login - fixed a bug that caused the homepage to break when users log in after browsing through multiple pages in the Featured, Most Recent, Most Likes etc. galleries. 


Account registration - added a line to the registration confirmation that tells users to check their Spam box if they don't receive an email verification within a few minutes. 


Post publication date - fixed a bug that caused posts to display today's date instead of the original publication date after opening them. 
MEDIA HIGHLIGHT IMAGE BY ARTIST: GAZUKULL
In celebration of 2020, we're featuring a drop-dead gorgeous gal filled with the holiday spirit: Happy Holidays 2019 Part II. (Yes, there's also a sexy part 1.) Pay a visit to Gazukull's profile for more of where this came from. You may be familiar with Gazukull's artwork from the Dead Tide series, which is available in the Affect3D Store if you're curious.  
We hope you've had a wonderful time during the holidays with lots of happy memories to remember 2019 by. Have a Happy New Year everyone! 
Do you want to add items to list ?