Development Update #15
Sep 20, 2019
NEW SITE FEATURES UP UNTIL SEPTEMBER 20TH
EVOLVING ACHIEVEMENT BADGES
We've kicked off new sets of user achievement badges for you to collect! You may have already seen them appear under the Achievements section of your profile page or on the profiles of fellow Slushe users.
We've dubbed these badges evolving achievement badges because you can level them up. There are 6 levels for each evolving achievement. When you unlock level 1, the first badge will automatically appear on your profile page. As you continue leveling up, your badge will keep changing its shape until you've reached the final stage of the achievement. 
Currently you can earn badges for these achievements:

Total number of followers reached
Total number of media views received
Total number of likes received
Total number of comments received
Total number of comments given 
We'll continue adding more evolving achievements in the near future. Of course certain achievements are directed specifically at artists, but fans and general site users can also look forward to obtaining badges for community contributions. If you have your own suggestions for a new badge, feel free to leave us a comment! 
ACHIEVEMENTS PAGE
You can preview all the achievement badges by going to the Achievements section on anyone's profile page and clicking the view all button. This will open a popup window which lists all of the badges that we've published on the site. There's a brief description to explain the meaning of each badge. 
The Achievements page is divided into: 
Exclusive Badges - badges that have been awarded to one individual or a group of individuals for participating in special events, such as the closed beta and contests. 
Evolving Badges - badges that either require a certain level of engagement with other users or their content.




SLUSHE WATERMARK
It is now possible to apply a Slushe watermark when you submit new images to the site!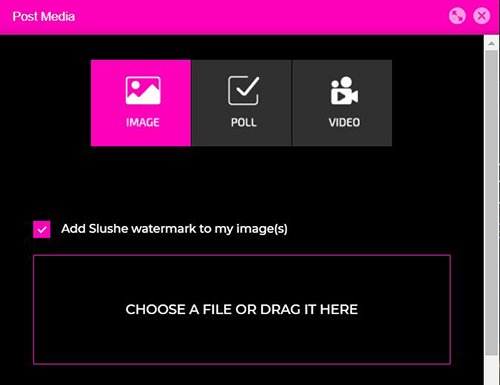 Click Post Media to open the media uploader.
You'll see a checkbox that says Add Slushe watermark to my image(s) above the file uploader. (See example below.)
If you want the watermark, leave the checkbox ticked and upload your images. 
If you don't want the watermark, untick the checkbox before you upload your images. 
Important to keep in mind:
The watermark will appear in the bottom left corner of your image. 
The watermark cannot be applied to GIFs. We're working on fixing that.
The watermark may not appear fully on images with a white or very light background. We're working on fixing that. 
INFINITE SCROLLING ON SLUSHE HOMEPAGE
We've applied infinite scrolling to the Slushe homepage galleries, so you no longer have to click page numbers to browse. When you've scrolled a few times, you'll see an arrow icon appear in the bottom right corner. Click it to go back to the top of the page. 
For now the homepage is the only area where infinite scrolling is active, but we'll likely implement it in other areas of the site in the near future. 
NEW RECAPTCHA 



We've replaced our reCAPTCHA tool because the old one was causing too many errors. The new Google reCAPTCHA doesn't require you to take any actions - everything is handled in the background so you can go about your day without having to solve math problems. ;)
GENERAL SITE FIXES
Video Download - download now starts immediately. It no longer opens the video in a new browser tab. 
Inbox Pagination - page numbers open the correct page now. No more issues with broken pages. 

Lists Pagination - page numbers open the correct page now. No more issues with broken pages. 
Category display filter  - fixed a bug that caused the list of available media categories to display incorrectly for new site users in the Edit Profile section. 
Mobile homepage gallery buttons - Featured / Most Recent / Most Likes / Most Views / Most Discussed buttons appear fully again on mobile devices. 
Mobile comments box - the comments box on media pages is more responsive to clicking when mobile user is entering text. 
Forum comment replies - fixed a bug that prevent users from replying to forum comments with a quote.
Profile Stats - Comments - fixed the number the number that displays for Comments in the Stats section of user profile, so it no longer counts the user's personal comments on their own posts. 
Login Page - updated the login page. 
Signup Page / Register Window - updated the signup page. Added a checkbox for 'I have read and I agree to Slushe's Site Rules and Privacy Policy' to ensure users are aware of site rules and policies before registering. 
Media - Edit Content Page - fixed bugs that allowed users to save edited content without a title and categories. Fixed another bug that only allowed users to save 6 categories instead of 15. 
Media - Publish Dates - fixed a bug that caused incorrect publish dates to display on media posts. 
MEDIA HIGHLIGHT BY ARTIST: OLYMPUS3DX
In today's Media Highlight we're featuring a sensual kiss orchestrated by artist Olympus3DX. After the two beautiful blondes get a taste of each other, they continue exploring each other's bodies in his image collection Futa Sonata. Visit Olympus3DX's Slushe profile or check out his products on A3D if you'd like to see more of his artwork! 
Do you want to add items to list ?